Set Your Workflow Data Free! Unlock Powerful and Actionable Insights using Swiftly Plug-in for Jira
Swiftly is an easy to use, powerful Workflow Analytics and Benchmarking tool that gives you powerful insights from data that is locked up in work management applications like Jira, and other ticketing and custom workflow applications. The traditional reports that these applications provide are grossly inadequate in helping you understand your teams' true capability. Swiftly uncovers the data in these apps and provides analytics that are relevant and interactive, letting you explore the data and get dynamic insights from your data. Swiftly is an easy to use analytics software that helps you unlock insightful and interactive "FLOW METRICS" hidden in your Jira data – using it's Jira Plug-in!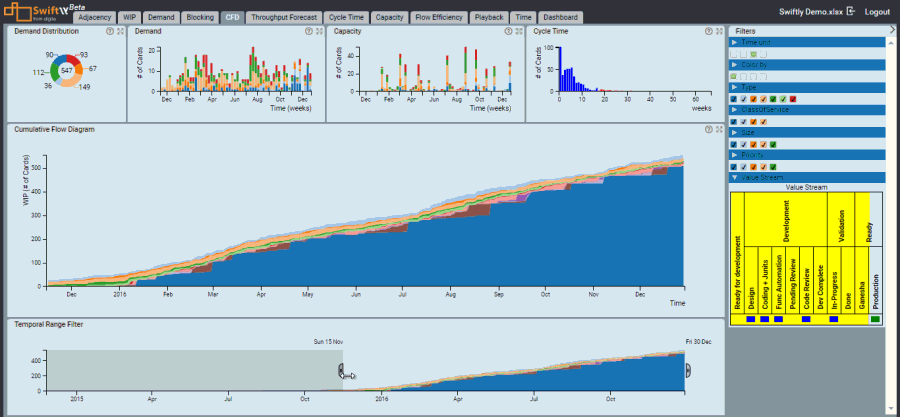 Swiftly - Powerful Workflow Analytics
Swiftly helps you extract your Jira data – and interact with it across multiple dimensions to:
Understand bottlenecks that reduce throughput
Understand flow patterns to help reduce cycle time
Understand imbalances between work inflow vs outflow, to enable better capacity planning
Understand workflow trends across the value stream to help improve  efficiency
Swiftly seamlessly converts workflow data from Jira into powerful, visual and interactive analytics that you can use to fully understand your teams' capabilities and make reliable delivery commitments.
Swiftly is an awesome Lean and Flow analytics app from Digite. It helped us benchmark our Jira workflows and helped us establish an initial baseline when we started our Lean/ Kanban implementation.
Are you using the Jira Cloud Version?
Currently, Swiftly is offered to Jira users who have their own server instance (Get the plug-in HERE). Soon we will be launching a cloud version of the plug-in on the Atlassian Marketplace. If you would like to be notified, please enter the email address you use for your Jira cloud instance below and we'll send you an update when it's ready.
*Jira and Atlassian are trademarks of Atlassian, Inc.