How well do you understand your business workflows? Where are your bottlenecks? What stages do you see the most throughput? Where are you resource constrained? How long does it take you to service a customer request? What kind of delivery commitment can you make to your customers?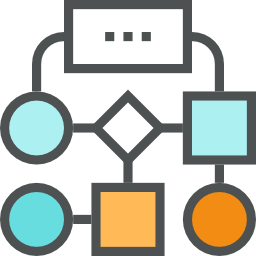 Most organizations do not have these insights. Most of the work teams do remains hidden in a variety of collaboration and workflow management systems that you use, making it impossible for you to understand how much work is being pushed on to your teams and what your system is capable of delivering!
Enter Swiftly! Swiftly is an easy to use, powerful Workflow Analytics and Benchmarking tool that gives you powerful insights from data that is locked up in work management applications like JIRA, ServiceNow and other ticketing and custom workflow applications. The traditional reports that these applications provide are grossly inadequate in helping you understand your teams' true capability. Swiftly uncovers the data in these apps and provides analytics that are relevant and interactive, letting you explore the data and get dynamic insights from your data.
Organizations are embarking on large-scale Agile Transformation initiatives to achieve their Digital Transformation objectives. Agility at scale is a key enabler for organizations to adapt and thrive in the face of hyper competition and a rapidly changing business landscape. Agile transformations are a continuous journey rather than a specific end state. For organizations, setbacks in the transformation journey can have serious implications both in the short term and long term and some of these implications can be fatal.
For a successful transformation journey anchored on continuous improvement, it is extremely important to quantitatively measure and benchmark your current capability, so that you can set practical and measurable goals for where you want to be in the next step of your journey. For this, you need to leverage your existing data resident in applications like JIRA, help desk systems like ServiceNow, Excel spreadsheets or any other custom applications.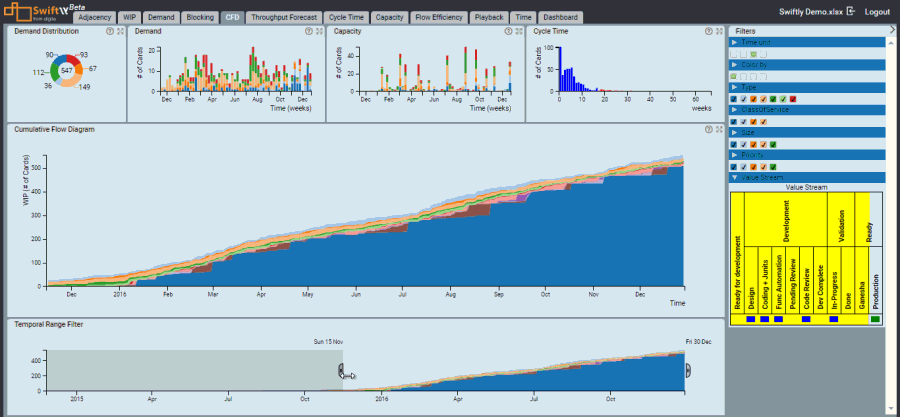 Simply put, Swiftly analyzes your current systems' workflow data and gives you critical insights on that data. To use Swiftly, just export the workflow data from your work management system (JIRA, ServiceNow or any ticketing/ workflow system) using an Excel/ CSV format file. Swiftly seamlessly ingests this data and converts it into powerful and interactive metrics that you can use to understand your organizational characteristics - Demand vs. Capacity trends, Lead Time analysis, how Predictable your delivery capability is, Flow Efficiency of work performed, Work-in-progress trends and a lot more. In just a short time, you gain a dramatic understanding of your system's workflow and it's constraints and bottlenecks. Quantified metrics to help you embark on your improvement journey for your Digital Transformation!
Swiftly uses heuristics to parse the Excel/ CSV data file and suggests the most relevant value stream that the data indicates, filters you can use to slice and dice the data and issues, if any, with the data like mixed data types. You can make changes to these suggestions based on your own knowledge of the data and finalize it final analysis and charting.
To get a quick feel for how it works, you can simply test-drive a demo we've put together HERE. You do not have to upload anything. Feel free to change the filter options and explore all the tabs.
Here are some important insights from your data Swiftly will provide -
Is my team's demand and capacity reasonably matched – Do they change over time? Do I have demand spikes that occur at some frequency – why?
What are the inflow and outflow trends - by work item type or source of work?
What is the story on quality and its trends?
What are the weekly/ monthly statistics for my delivery capability? What is the variability (as variability leads to lesser predictability)?
What are the Work-In-Progress and aging trends? Are we really aligned to the philosophy of "Stop starting, start finishing"?
What is a robust estimation of my team's actual delivery capability based on a Monte Carlo simulation of the team's data?
What are "in-process" cycle time trends?
If you need any help with your Agile transformation, our specialists are just an email away! Contact us at sales@digite.com and we'll get in touch to help you derive the maximum value from these data insights.
Test Drive Swiftly HERE
Pricing