01 July 2019
This release is packed with several enhancements that help you run Agile projects much more effectively. All trend based analytics now have the flexibility to select specific releases/sprints or have criteria defined for releases/sprints to be considered dynamically. Timesheet routing is now a breeze as it can be done from the same Time Entry window available in the ToDos section of your Agile workitems. And to help you keep track of technical work, Technical Story eForm has been introduced. Along with these enhancements, we have introduced a host of REST APIs that will help you integrate with other tools in your ecosystem seamlessly and several other usability enhancements across the application.
Agile Analytics
View Trend Data for Specific Releases/ Sprints
We have various analytics that helps you assess the trend of velocity, value vs non-value added work, and spillover work across past releases & sprints in terms of workitem count and story points. However, the release & sprint selection for these analytics was limited to the selection of the start & end release/sprint or the specific number of past releases/sprints.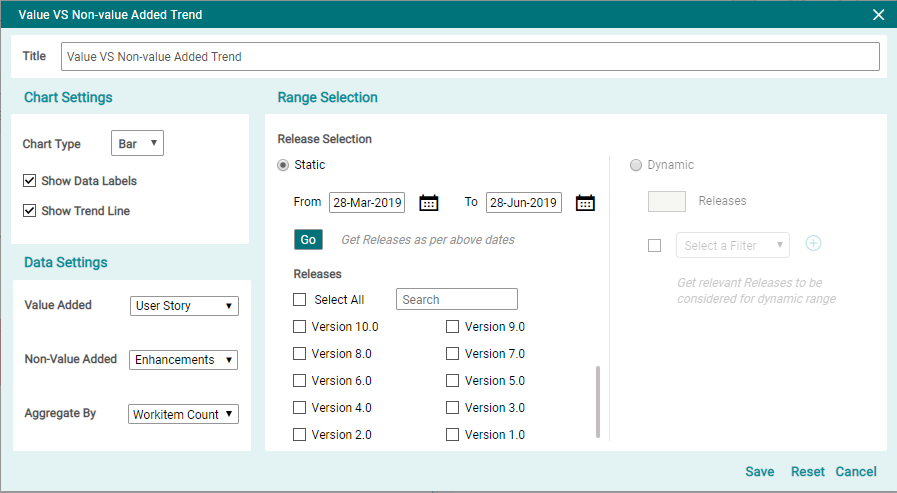 We understand you may want to exclude certain releases/sprints in such trend based analytics due to an unnecessary spike or drop that is causing the overall trend to be skewed. So, as part of this release, you now have the option to select specific releases/sprints or define filter criteria based on which the past releases/sprints will be considered for the analytics.
Agile Execution
Log & Route Timesheet in One Go
As a team member one can share the progress of their cards in a couple of ways. One is by moving the card to the next column in the value stream while the other is by updating the remaining effort against the ToDos so that it is seen in the burndown chart. Both of these can easily be performed from the Execution Board itself. However, for the revised effort to reflect on the workitem and some reports, the timesheet had to be approved. For this, one had to navigate to the main timesheet to route it for approval.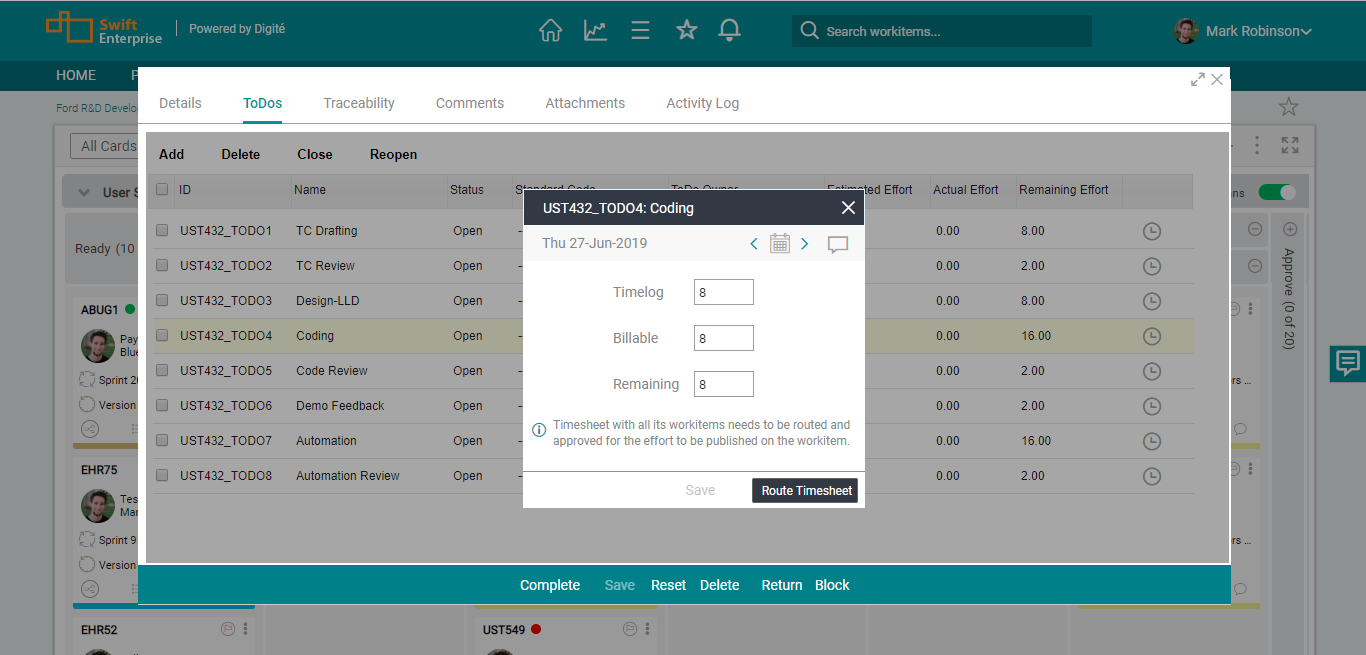 In this release, we have provided the option to Route the timesheet from the Time Entry screen of the ToDo section. The Route Timesheet option works just like it works in the main timesheet by ensuring all the items belonging to the timesheet are sent for approval without the need to navigate to another screen.
Track Technical Work using new Technical Story eForm
To help you manage technical work in an Agile project we have introduced a new eForm, Technical Story. So you can use it to keep track of all type of non-functional work but still track it like any other Agile workitem so that it can be planned and delivered as part of a sprint and release.
Integration
Integrating with SwiftEnterprise becomes smoother and easier with the introduction of REST APIs. Along with SOAP web services, we have offered a range of REST APIs which you can use to integrate SwiftEnterprise with any other application. To know more about it, visit this page.
Other Enhancements
Clearing the Advanced Filter will load the list of open items by default.
Export capability extended to all Timesheet Reports at Project & Org level.
Search-select field is available for defining Project & Resource filter criteria.
New ECR literal to control linking & de-linking of workitems from Traceability section.
Workitems planned for a release but not a sprint are available for grooming in the Backlog Refinement Board.
Ongoing sprints are available along with future sprints in Sprint Planning section of the Backlog Refinement Board.
NOTE: As part of this release, you will need a new module license for access to our Mobile App. Please contact our Sales & Support Team for more details.