Project/ Program Management
SwiftEnterprise offers a comprehensive Program and Project Management capability that makes setting up and managing simple to highly complex/ sophisticated programs and projects easy to manage. SwiftEnterprise provides 2-way integration with MS Project as well as provides it's own task scheduling capability – STaRT (Simple Task and Resource Tracking).
The SwiftEnterprise Program Dependency Board enables Program Managers to visually keep track of dependencies between important work items across projects for program delivery as per plan.
SwiftEnterprise also includes extensive Time Management (timesheet) capability, Resource Management as well as Issues, Risk and Document Management – besides extensive Collaboration capabilities.
Finally, it provides a wide range of personal and enterprise dashboarding capability which can be configured for each team's and the organization's business needs. It is also fully integrated with the SwiftReports/ Rules capabilities for powerful, highly configurable, rules-driven custom Reporting and Logic capabilities.
The Program/ Project product is fully integrated with Process Governance and SDLC Management for an integrated user experience for managing a variety of projects.
Task Management
Task Management in SwiftEnterprise supports effective management of project tasks including process-aligned task planning and scheduling, automation of recurrent tasks, besides other common task management activities. It provides for extensive resources management features as well.
STaRT
STaRT – for Simple Task and Resource Tracking – is meant for small to medium projects or projects with simple scheduling/ dependency needs. Using STaRT, Project Managers can manage their project schedule and make all project updates using STaRT's simple scheduling capabilities on its web-interface.
STaRT supports commonly used scheduling features such as Finish to Start (FS) dependencies, Fixed duration tasks and 'ASAP' scheduling constraints only. (For more sopiisticated scheduling needs, please use MS Project, with the MS Project Ploguin provided by SwiftEnterprise).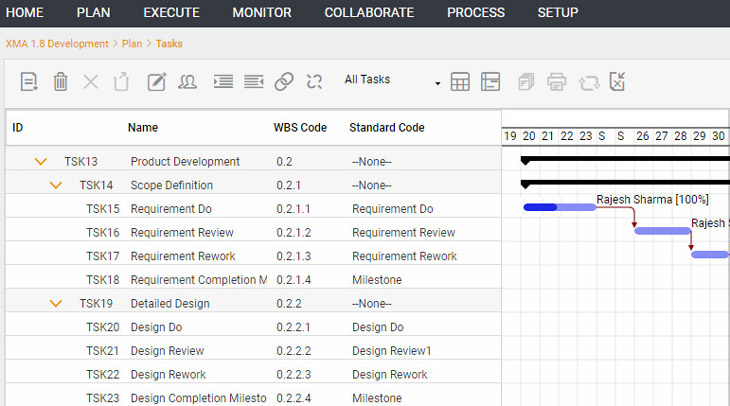 All key STaRT features such as Manage Tasks, Customize Task Plan View, Check Out/ Checkin Task Plan, Resources assignments, Baselining, Viewing the Gantt Chart and Rescheduling the Task Plan, etc. can be used from SwiftEnterprise's web interface without the need to download a desktop client.
Timesheet Management
The Timesheet module of SwiftEnterprise allows users to log time against work-items that they have been assigned to. It is automatically populated with the current tasks across all projects, making it easy for team members to report their time spent on various tasks. It helps track the efforts spent on a work-item for analysis of time spent on activities over a period of time.
The Timesheet is workflow enabled to help you implement timesheet review and approval processes specific to each project and the organization as a whole. It helps you track planned effort, actual effort and remaining effort as well as % completion of tasks, which can configured as needed by organizational business policies.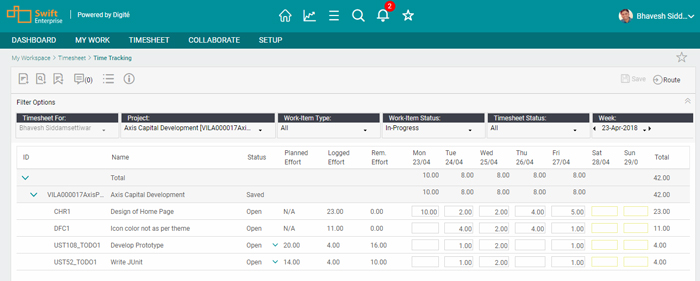 SwiftEnterprise provides several reports and dashboard metrics at project and organization level to help management and HR track all key aspects of time tracking and ensure that the organization is performing at optimal levels of productivity and efficiency.
Resource Management
SwiftEnterprise's powerful Resource Management capability helps organizations gain the visibility to plan and balance the resource workload across all their projects and programs. Resource Managers and Project Managers can easily and quickly identify the right resources through Skill Search results, Resource Availability reports and schedule the resources wisely.
Resource Management's integration with the Skills database, gives Resource Managers the complete picture of resource skills and their utilization within an organization, empowering managers to plan projects that reflect realistic resource capabilities and assignment durations.
SwiftEnterprise's integrated Timesheet functionality ensures easy reporting of effort against tasks worked on and use that for reporting on progress, forecast project completion and resource demand.
Issue Tracking
SwiftEnterprise really shines in helping you manage Project Execution – especially all the unplanned work that is sure to creep up in any project.
SwiftEnterprise enables project teams to centrally track, assign, and if needed, escalate, issues for effective project execution. The team and all stakeholders get full visibility of issues across their projects – including status, due date and resolution. A rich set of reports and dashboard components help you highlight and manage all issues on time.
Risk Management
A key aspect of successful project and program management is tracking and mitigating risks. SwiftEnterprise's Risk Management module enables organizations to centralize and manage the factors that influence risk so that they can better determine which strategies, objectives and related initiatives align with their risk appetite.
The integrated risk tracking features provides risk impact assessment that enables the project team to identify, quantify and mitigate risks by defining appropriate response strategies.
SwiftEnterprise simplifies the implementation of an enterprise risk framework and ensures proper application of risk tracking techniques, by allowing cataloguing and responding to risks from one central repository.
Document Management
One of the biggest challenges for a Project Team is to track the latest versions of its various documents and ensure that everyone is looking at the same (usually the latest) version of any document. SwiftEnterprise's integrated document management software keeps project documents up-to-date and available to dispersed project teams, ensuring security and integrity of these documents.
SwiftEnterprise Document Management reduces the complexity and effort associated with storing, organizing and locating project information, ranging from various documents, requirements and presentations to software code.
SwiftEnterprise Document management module provides complete document management including document sharing, review & workflow based approval.