Product Lifecycle Management Software
The SDLC (software or other products lifecycle) Management capability provides an integrated, collaborative capability for developing, delivering and maintaining applications, third-party software and a variety of other products.
It combines Agile development management using Scrum/ Kanban methods, a Visual Board and all the associated capability from Requirements Management thru Configuration Management and IDE integration.
Whether you use traditional development methods or Lean/ Agile or Hybrid Agile methods, and whether you are building a new product or application from scratch, implementing a 3rd-party product or simply maintaining an existing application, you can use SwiftEnterprise for all your development lifecycle management activity as well as collaboration across various parts of your distributed team/ organization.
Agile Software Development
SwiftEnterprise comes with full support for Agile software development. SwiftEnterprise delivers a full-function Agile module that comes with Planning and Execution Board features. Agile teams will be able to leverage a wide range of Agile capabilities to manage Agile projects much more easily and intuitively. Start by building your backlog of Themes/ Epics/ User Stories. Define your Releases and Sprints. Pull User stories into each sprint based on Sprint capacity and velocity. As each Sprint is to be executed, break down Sprints into Tasks and define estimates in story points and effort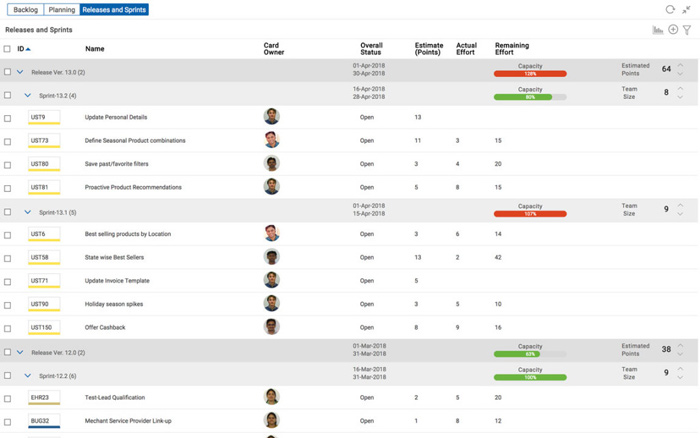 Visual Board Based Management
SwiftEnterprise comes with a powerful Visual Board that allows you to define your exact process that you follow for building your software. Select the work items that will be managed on the board – User Stories and Defects will typically be available by default. As stories get done, track remaining hours and monitor the Sprint using burn-down and velocity charts, as well as other quality metrics such as Defect Leakage, Defect Density and others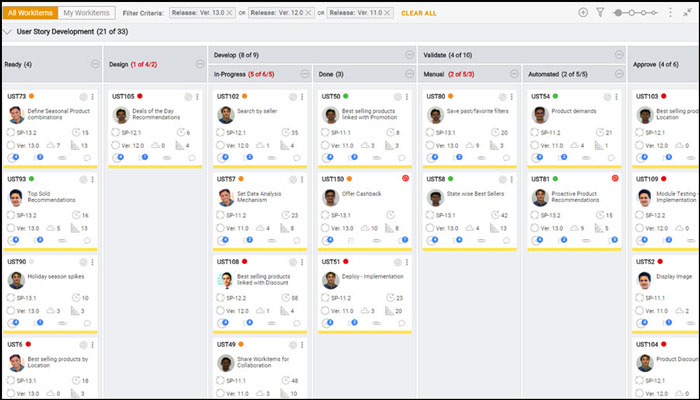 Requirement Management
Effective and Change Management remains a key challenge for delivering software projects successfully. Between 40% and 60% of software failures and defects are the result of poor planning and requirements definition. Dependency on offline artifacts such as monolithic requirements documents; and a silo-ization of functions are some of the key issues contributing to this.
SwiftEnterprise's Requirements Management module helps you breakdown the overall scope of the application using simple decomposition into different levels of requirements that you work with in your organization, and manage them at an appropriate level of granularity. A built-in workflow helps your team collaborate in defining and reviewing each use-case or unit. It helps you track different versions and baseline the approved version. It even tells you what may have changed between the current and the baseline (or any past) version of the requirement! Link Test Cases, Change Requests and Defects to Requirements as needed to help impact all changes to the product.
As requirements get completed, you can export them to a variety of document formats to share with external customers. You can also get back changes comments in the Excel version and incorporate them back to the various requirements.
Change Request Management
"The only constant is change!", said a wise person. Application/ Software project teams know that all too well! SwiftEnterprise Change Management module helps you track all project changes, especially changes to Requirements – to help manage customer expectations more effectively.
SwiftEnterprise's powerful and configurable traceability feature helps link all related artifacts and do complete impact analysis for any change in the application/ project scope and enable both business and Dev teams understand the impact on schedule and costs.
Test Management
Test Management, Test Automation, Continuous Integration, nightly Builds and Deployment have all become synonymous with Agile software development. If you have not yet begun the automation journey, you will start sooner rather than later!
SwiftEnterprise's Test Management provides an easy way to capture Test Cases, combine them into Test Scripts and plan Test Events. Integrated with test automation, test execution tools and build monitoring, it provides a simple, yet effective way for application development teams to integrate and automate their testing processes in conjunction with their overall software development and deployment environment.
SwiftEnterprise also integrates easily with 3rd party tools such as HP Quality Center as also tools from IBM, Microsoft and others.
Defect Management
Software quality is paramount to all kinds of business today. SwiftEnterprise's Integrated Testing and Defect Management is key to all software organizations.
The Defect Management module provides rich features such as Traceability, configurable workflow and document attachments. Defects can even be converted to 'Change Request' if deemed to be so.
Finally, SwiftEnterprise provides a rich set of reports; quality metrics and dashboard components based on the defect related data. Additionally, SwiftEnterprise can easily integrate with 3rd party Defect Management tools such as Remedy, JIRA, Bugzilla and others!
SCM Integration
With globally distributed teams collaborating on the same project, it is very essential that organizations have a strong control over it's code repository to maintain consistency and remove any conflict in accessing artifacts across the globe.
Organizations also need to maintain complete record of all changes in the configuration, so as to be able to track any problems to their origin, through the chain of access data stored.
SwiftEnterprise provides seamless integration with popular Configuration Management tools like Git, Subversion, VSS and CVS, enabling geographically spread teams to get instant access to latest configuration management information.