28 Mar 2020
This release brings enhancements that help you get the best of AI-powered similar workitem recommendation, Story Mapping, and Timesheet capabilities. It also has new REST APIs so that SwiftReport table entries can be updated based on your business needs. On the mobile front, you can now choose the zoom level for the cards seen on the Execution Board. Along with these, we have enhanced few ECR literals, and other areas of the application to make the overall experience smoother.
AI-Powered Capabilities
Find Similar Workitems using Swiftbot
You can now ask the Swiftbot to look for workitems, which are similar to the one you are working on. Simply ask the Swifbot something like "Any items similar to this one?" and the AI-engine will recommend similar workitems accordingly.
Story Mapping
Build Story Map with Workitems across Projects
The Story Mapping technique helps you identify the workitems to be developed for an effective product usage journey of specific personas. These workitems could be spread across multiple projects as they are worked upon by different teams. For example, you may have a roadmap project to manage Themes, Epics and Features and a development project to manage User Stories, Technical Stories.
So that you get complete visibility of all these workitems spread across projects, Story Mapping module has been enhanced to support workitems belonging to different projects. In a few steps, you can set up the projects in which different workitem types instances can be created and select the project from which releases/sprints will be available for Story Mapping board.
Mobile App
You can now adjust the level of detail you would like to see on the cards in the Execution Board on the mobile app. You can zoom to the highest level of card detail to view important attributes upfront or zoom to the lowest level to get a view of the number of cards across different columns in the value stream.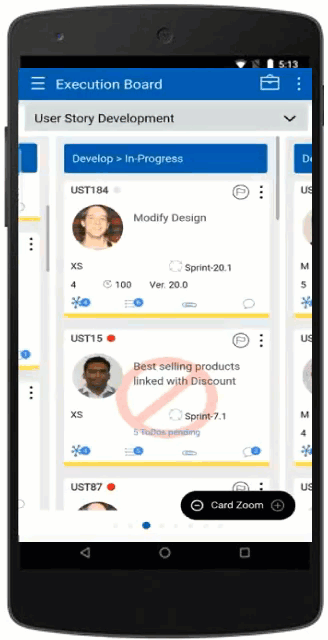 REST APIs
New REST APIs to help you update SwiftReports data
SwiftReports (ECR Framework) allows you to maintain tables on workitem instances that that can hold a variety of information. This information could belong to external systems that just need to be available for reference. For example, the availability of resources coming from HRMS. In order to update such table entries based on the business needs, you can make use of our new REST APIs to add, modify and delete rows in SwiftReports (ECR) tables on the workitem instances.
Timesheet
Update Remaining Effort in Timesheet for STaRT Tasks
Timesheet users can now specify the amount of work remaining to complete a STaRT Task by specifying the Remaining Hours in the timesheet. With this, timesheet users get a uniform experience across all types of Tasks and ToDos when it comes to updating remaining effort.
We have also ensured that the Planned Effort of a STaRT Task is the sum of the Logged Effort and Remaining Effort upon timesheet approval. This way, the remaining effort gets auto-computed even when the Planned Effort is changed at a later stage.
IMPORTANT : Refer to the Release Notes for details on possible impact to Planned Effort of STaRT Tasks upon first check out/in post upgrade.
Other Enhancements
New literal to set default menu when navigating to a specific workspace.
New optional parameter to specify table with which the table should be merged.
New MS Project check-in validation to stop change of control type of custom field(s) from MPP file.
New optional parameters to create version and activity log while updating workitem using the SETFIELDVALUES literal.
Note shown at the bottom of the designated field to indicate AI recommendations are given based on its content.